"Education is the most powerful weapon which you can use to change the world." – Nelson Mandela
At The Stepping Stones Group, we believe each individual deserves an enriching environment to learn and grow. We know the importance and value of continued education and the prominent role it plays in contributing to professional growth, not only for our own clinicians but for the community as a whole. Our professional development offerings are presented by our very own clinical team through our online learning community, Bridge Academy.
Additionally, we offer select webinars and training to our school district clients and their employees. Every presentation targets hands-on, practical applications and resources presented by either clinical experts or nationally recognized speakers. Our courses are approved for ASHA, AOTA, and NASP continuing education credits.
If you have questions or are interested in receiving additional information about our presentations or training, please contact us at bridge@thesteppingstonesgroup.com.



The following webinars are intended for employees of The Stepping Stones Group. Our online professional development platform,
Bridge Academy,
can be accessed anywhere you have an internet connection in order to earn continuing education credits.
Within
Bridge Academy
, you will be able to access live and Recorded Webinars with
ASHA, AOTA,
and
NASP approved
courses for credit.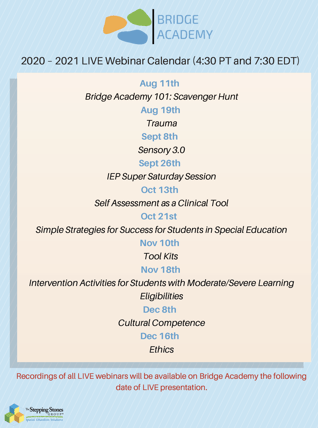 If you are interested in scheduling a workshop, let your Stepping Stones Group contact know or email us at
bridge@thesteppingstonesgroup.com
. Workshops can be adjusted to meet school district needs, different grade levels, and populations. Workshops can also be adjusted for time (i.e., one hour, two hours, half-day, etc.)
Then, we will provide the rest!
A speaker on the topic of your choice listed below
Approval for ASHA and AOTA CEUs, with documentation procedures
Handouts and materials
A flyer to advertise the workshop
---
Language and Literacy Related Topics And the Common Core State Standards
Learning and Behavior for SLPs
Response to Intervention
Middle School/High School Therapy Ideas at the Core (Common Core State Standards)
Speech-Language Delivery Models
Update on revised tests such as GFTA-3, CELF-5, CELF-5 Metalinguistics, CELF-5 Screener, CASL-2
Coaching/Mentoring
Update on Apraxia: Assessment & Treatment
Ethics for School-Based SLPs

Sensory Processing Classroom Strategies

A 3D Journey Into Dyslexia, Dysgraphia and

Dyspraxia

Executive Function Skills and The Learning

Disabled Child

Vision and Learning: The Critical Impact

School-Based Transitions—How OT/PT Can
Help at the Secondary Level!
To show our appreciation of your business, The Stepping Stones Group offers our school district clients and their employee's free access to our online professional development platform for therapists, Bridge Academy. Select webinars will be made available to you and your district-employed therapists at no additional cost.
The Stepping Stones Group is an ASHA Approved Continuing Education Provider, NASP Approved Continuing Professional Development Provider and an AOTA Approved Provider which allows us to offer continuing education units for SLP, School Psychologist, and OT webinars! (Each webinar is one hour in length = 0.1 CE each).
Samples of Webinar Topics: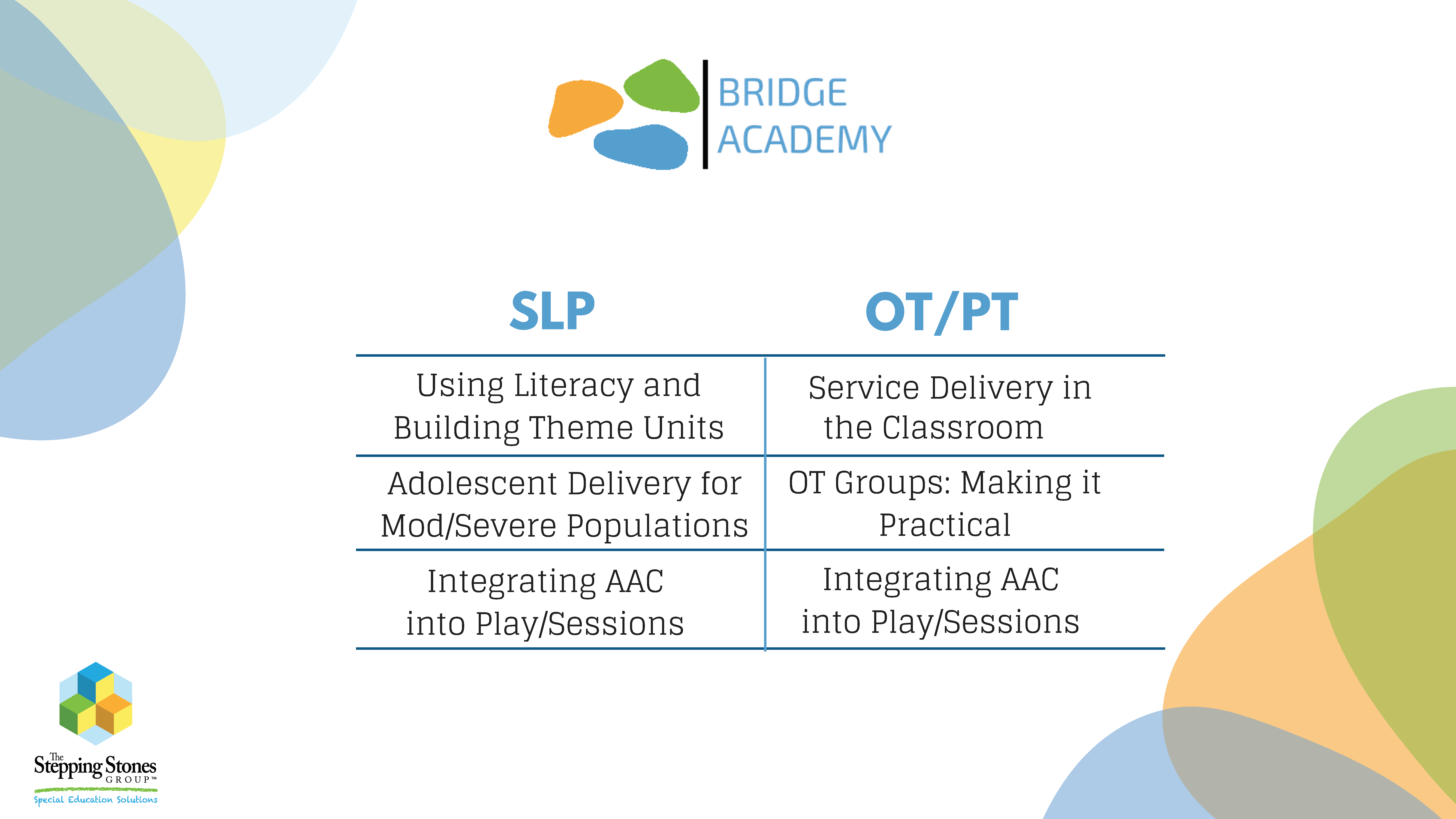 Browse through and download FREE resources from Bridge Academy.
We host a variety of:
Therapy Ideas
Therapy Resources
Checklists
Infographics
Data Templates
Practical/Printable Information
Video Clips
and more!